The Value of Relationship With Health Care Providers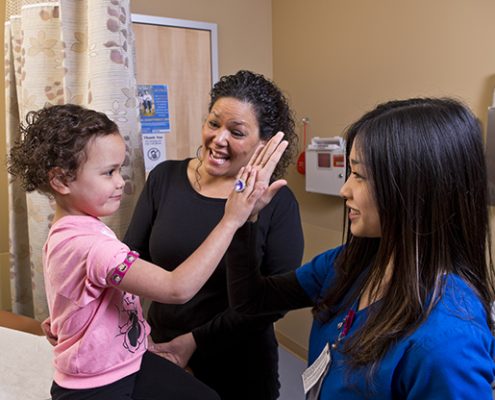 When a customer-owner establishes a trusting, accountable and long-term relationship with a health care provider team, it will generally lead to more positive health outcomes. Healthy relationships are at the core of SCF's Nuka System of Care. When a relationship is established, providers are in a better position to understand symptoms, answer questions, have meaningful conversations about risks and benefits associated with treatment options and work with customers to make better health decisions. However, building a relationship is not easy and like all good things, it takes time.
The first way to build quality relationships is for customers to meet with the same care team with each visit to SCF. Seeing the same provider offers greater opportunity to become familiar and comfortable with the team and build long-lasting relationships.
SCF uses the term "empanelment," which is when customers go through the process of choosing a team, not only do they select their primary care provider, but an entire support panel, or integrated care team. Integrated care team meets the physical, mental, emotional, cultural and social needs of the customer-owner. If you are not currently empaneled to a care team, contact (907) 729-3300 to schedule an assessment appointment to start to get to know the team.
Integrated care teams include:
Administrative supports, who check you in at the reception desk for each appointment
Certified medical assistants, who take your vital signs and perform medical screenings
Primary care providers, who can be a physician, physician's assistant or nurse practitioner and who provide care and are the ones you see
Registered nurse (RN) case managers, who provide care coordination and follow-up
Case management supports, who schedule your appointments and coordinate with RN
case managers
Dietitians, who consult with you to meet your desired nutritional goals
Behavioral health consultants, who consult with you to meet your desired behavioral health goals
Midwives, who consult with you, if applicable, about pregnancy, child-birth and birth control
The next step in building quality relationships is to create a safe, trusting and welcoming environment of respect. To achieve this, providers must be attentive and actively listen to the customer's needs. For many customers, this includes understanding, observing and honoring culture and traditions. As drivers of their own health and the SCF Nuka System of Care, customers are provided educational support to make informed decisions. Once a quality relationship is established, customers can confidently discuss health goals with their provider. Together, they can communicate information and recommendations needed to obtain desired health goals.
From the beginning, SCF has listened to customer-owners to understand how to effectively design and deliver health care. With over 17 different listening posts, SCF continues to improve its systems and services based on the feedback from customers. This means customers are in the driver's seat for owning their health care.
The success of SCF's approach to relationship-based health care has been noticed. Many organizations from around the world are now realizing the value of relationships and are looking to the SCF Nuka System of Care as a health care system to learn from.
SCF is honored to be recognized as a leader in this approach and is actively working to share this knowledge, so others can transform health care systems around the world.