Cutting-Edge Behavioral Health Care
Excerpt from SCF's 30-year Report
By 1987, Southcentral Foundation (SCF) had expanded beyond its initial self-management contracts to advance in the areas of mental and behavioral health.
SCF tailored services specifically to the priority needs in the community. A contract for adult mental health services came first, and SCF hired an Alaska Native clinician, Alice Abraham, to provide counseling. Abraham completed the first dictionary to translate diagnoses into Yup'ik and support families in their understanding of the Western terms.
Funding from the Indian Health Service (IHS) also enabled SCF to focus on youth substance abuse prevention. The program had an outreach component, where staff presented drug and alcohol education in the schools, and also offered outpatient treatment for adolescents. Substance abuse counselors would meet with the youth for both group and individual sessions. To help the youth achieve their wellness goals, the program grew in both staffing and service enhancements.
SCF's behavioral health employees in the late 1980s were primarily of Alaska Native or American Indian descent. Alaska Native strengths were used to connect with the youth, and an Alaska Native Elder, "Uncle Walter," supported the effort by facilitating talking circles and offering guidance. To provide the best possible services for the Native Community, staff were en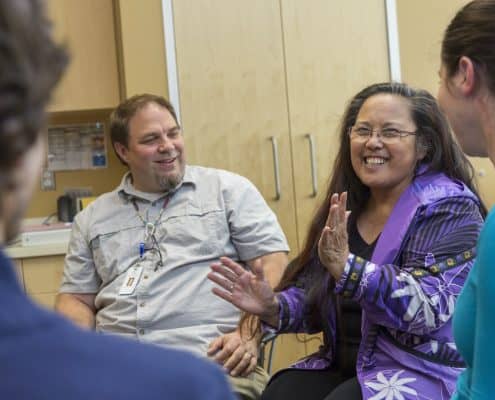 couraged to continue their education, and many went on to complete advanced degrees in human services, social sciences and mental health while working at SCF.
Rather than addressing substance abuse alone, SCF worked holistically to address the whole person. An adolescent mental health counselor, Dr. Bob Morgan, was hired. And, as the workforce grew, SCF was able to take a more comprehensive approach and integrate traditional healing resources with mental health, substance abuse treatment, trauma care, tobacco education and other family supports. By liaising with social services, juvenile justice (probation officers), and school counselors, SCF was practicing a wraparound approach before it was a known term!
As the program evolved, its manager, Darleen Beltz, became the first chair of the Association of Rural Alaska Native Drug and Alcohol Programs – a group developed to improve coordination between IHS-funded providers across the state. Its members shared best practices and worked together to develop assessments and coordinate residential treatment referrals.
In 1991, SCF captured national attention when it opened Dena A Coy, a residential program for pregnant, chemically dependent women. The program was designed to provide Fetal Alcohol Spectrum Disorders (FASD) education, counseling, therapy, and physical, mental, emotional and spiritual support, with the goal of healthier babies and healthier lifestyles for the women.
These early behavioral health programs were the first of many that SCF would develop to address not only physical health, but also mental, emotional and spiritual wellness. Innovative in their approaches, these programs became a model for others that would later develop around the country to meet similar needs.
Interested in learning more about behavioral health at SCF? Check out SCF's Behavioral Services White Paper or SCF's Behavioral Health Integration Webinar.