Integrated Care Team FAQS
Nuka System of Care Approach
Southcentral Foundation's Nuka System of Care has worked with the Native Community in Alaska to implement integrated care teams (ICT). These are co-located, multi-disciplinary teams with a redesigned workflow aimed to do the following:
• Increase access and convenience for customer-owners (SCF's term for patients)
• Ensure continuity of care
• Improve health care outcomes
• Build trusting, accountable relationship between customer-owner and health care providers
• Build relationships within ICT
Before ICT
• 3,500-4,000 physical visits per year per FTE
• Process rate limited through physical visits
• Nearly 50% of encounters had some behavioral health component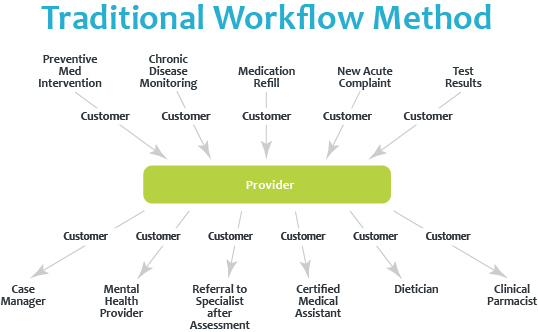 Work that could be handled differently:
• 20% were for Rx refill of controlled diseases
• 20% were for ongoing monitoring of chronic diseases
• 20% needed known preventive medical interventions
• 10% came requesting outside referrals
AND
• 50% total business volume already had known pathways or protocols
Value-added visits:
• 30% of total number of visits were new customers without a diagnosis or plan to date
After ICT
• 36 percent decrease in ER visits between January 2000 and 2015
• 36 percent decrease in the rate of hospital admissions from 2000 to 2015
Integrated Care Team Members 
• Primary care provider
• RN case manager
• Certified medical assistant
• Case management support
• Coverage nurse practitioner / physician's assistant
• Dietician
• Behavioral health consultant
• Integrated pharmacist
• Integrated midwife
• Manager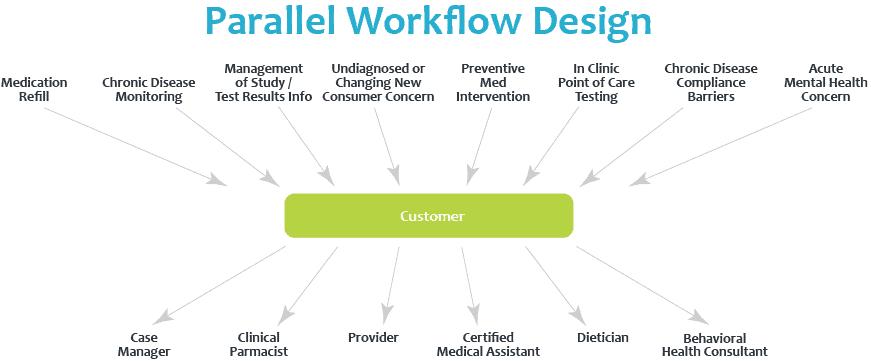 SCF has exceeded the 90th percentile in Healthcare Effectiveness Data Information Set (HEDIS) measures in:
• Diabetes care annual testing
• Diabetes HbA1c control
• Cardiovascular disease control <100 • Board certification • HPV vaccine for female adolescentDo you need to integrate primary care into your organization? Check out our Integrated Primary Care Team Training here.